Emergency Lab Support
---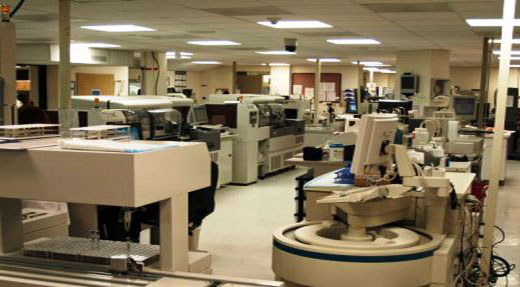 ---
Labaid Hospital gains from the extra-ordinary laboratory support from The Emergency Lab of Labaid Diagnostic that stands unique in Bangladesh as it mirrors our commitment and dedication to serve the cardiac patients from Labaid Cardiac Hospital and other critically ill patients from Labaid Specialized Hospital and also from outside on an emergency basis. It remains open round-the-clock, 7 days a week and 365 days a year. The Emergency Lab is independent of the routine medical laboratory services being provided at Labaid Diagnostic Centre.
It ensures prompt and precise lab tests that aid in prompt diagnosis of critically ill patients especially cardiac patients. We couple our commitment with services unique in accuracy, precision and promptness.
The spectrum of investigations at Emergency Lab:
CT scan / MRI
X-Ray
Biochemistry
Other investigations usually needed to be done on emergency basis in life saving efforts
Besides, tests for cardiac enzymes / markers are always done on emergency basis. Labaid Diagnostics boasts of being the only diagnostic centre in the country to extend the emergency lab services for critically ill patients including the cardiac patients. On top of it, almost all the departments of the centre remain functioning throughout the night to devote to doing clinical lab investigations of the samples collected at late hours and at any time especially during night when city dwellers go to sleep but we remain awaken to extend our helping hands to the distressed fighting for lives at Labaid Hospitals or any other hospitals or clinics of the city or outside the city.
Contact:
Tel: 9676356, 8610793-8
Emergency lab Extension: 166