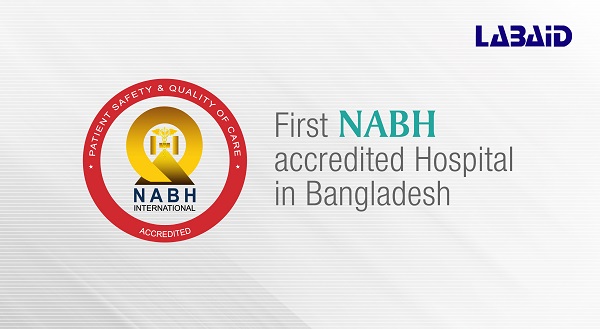 LABAID CARDIAC HOSPITAL
We are the 1st NABH International accredited hospital in Bangladesh. We ensure patient safety and quality of care as per international standard. We achieved the accreditation on March 31, 2019. We want to congratulate all of our respected Consultants, RMO, Nurses, all Support service staffs and all stakeholders for their leadership, support and commitment to the quality and safety priorities. We always try to adhere with legal compliance and give priority on employee health safety.
Emergency Numbers

Labaid Hotline :
10606
24 hours Emergency:
01713333337
Labaid Cardiac customer care:
01766663222
Labaid Specialized customer care:
01766662111
Labaid Cardiac admission:
01766660444
Labaid Specialized admission:
01766661222
Labaid Home Service:
01766661452
01766661900
---
Labaid Cardiac Hospital commissioned on 15 July 2004. A new era in the field of cardiac care is dawned, a new chapter opened. Labaid Cardiac Hospital - the fist international standard super-specialty hospital of the country, dedicated exclusively to the diagnosis and treatment of cardiovascular diseases have been built on a six storied building at, Dhanmondi - a commercial cum residential hub of Dhaka City, covering a floor space of more than 100000 sq. feet. Equipped with most modern and state-of-the-art equipment and machineries, the Labaid Cardiac Hospital makes a solemn commitment to the cardiac patients of the country - a commitment to maintain mastery and marvel in cardiac acre, to be compassionate and respectful to patients' beliefs and values and to make sound decision in the interest of the patients.
More..