Health Camp and Environmental Sanitation Program organized by State University of Bangladesh and LABAID group (17/03/2014))
---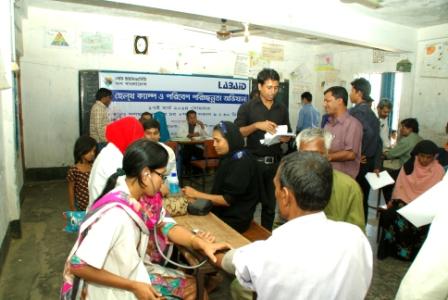 As a part of social responsibility, the Department of Public Health, State University of Bangladesh (SUB) and LAB AID group jointly organized a daylong 'Free Health Camp and Environmental Sanitation Program' on 17th March, 2014 in the village Sholmashi Baher Savar upazilla.
MPH Students of the Department of Public Health (SUB) conducted awareness program and Environmental cleanliness program through house to house visit in the village while LABAID group supported the Free Health Camp. About 130 villagers received free medical and dental treatment from the health camp. In addition screening for hypertension, diabetes and handgrip strength by Dynamometer were also conducted in the camp. Mr. Salah Uddin Ahmed, Member Union Parishad Vakurta inaugurated the program while Dr. NawziaYasmin, Head, Department of Public Health delivered the welcome speech and Mr Saifur Rahman Lenin, Senior Manager, Brand & Communication, LABAID GROUP also spoke in the program. Faculty members of Dept of Public Health and doctors of LABAID also participated in the program activities.
Date of Published :
3/22/2014 1:08:40 PM.
.
Back