Preslo-L 25mg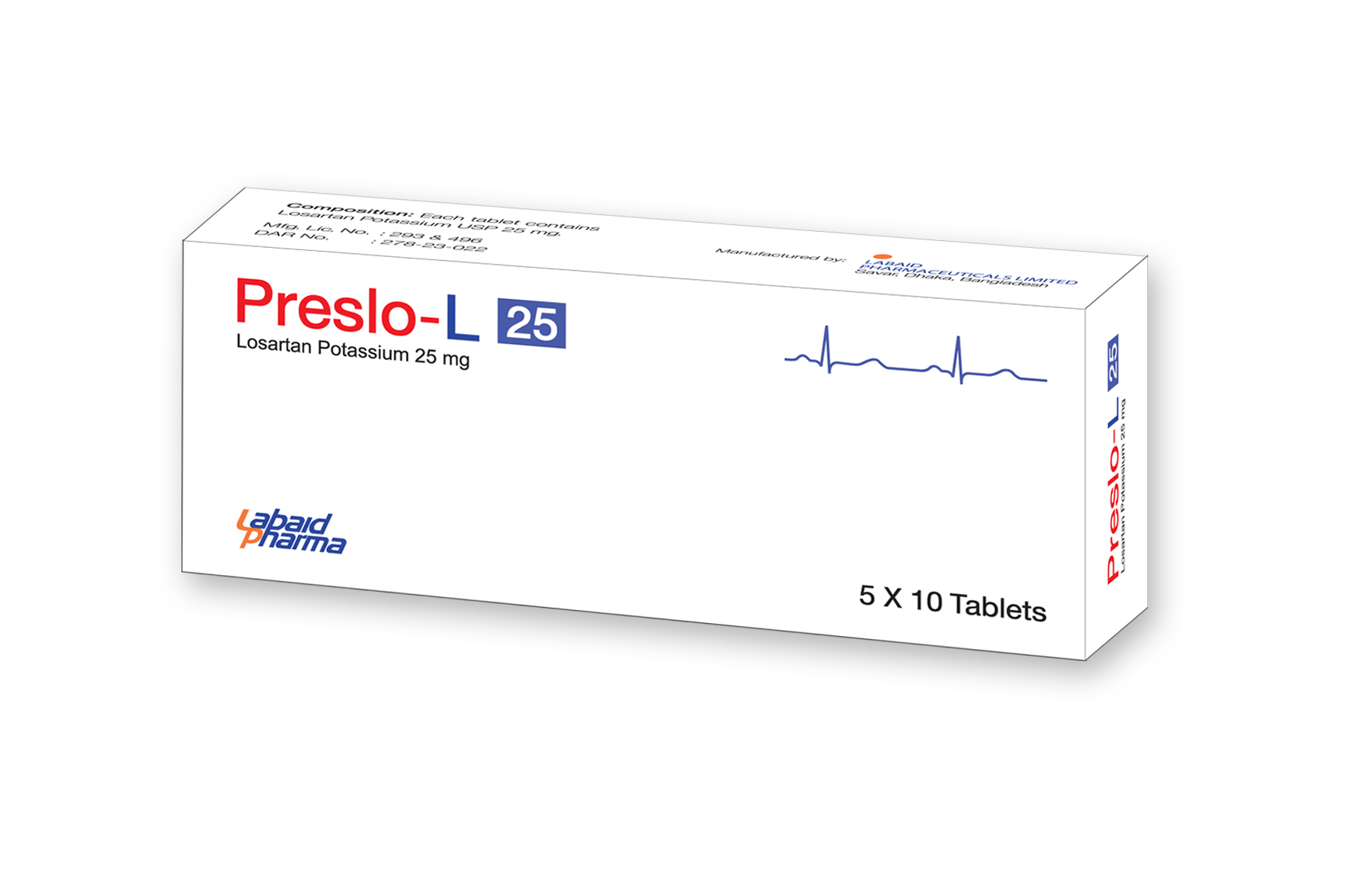 Generic :
Lossartan Potassium
Therapeutic :
Lossartan Potassium
---
Preslo-L
Lossartan Potassium
Composition :
Preslo-L 25 Tablet : Each tablet contains Losartan Potassium USP 25 mg.

Description :
Losartan Potassium is the first orally active angiotensin-II receptor (type-AT1) antagonist. Angiotensin-II is a potent vasoconstrictor which is the primary vasoactive hormone of the renin-angiotensin system and an important component in the patho-physiology of hypertension. Losartan Potassium and its principle active metabolite block the vasoconstrictor and aldosterone secreting effects of angiotensin-II receptor.
Indications :
Preslo-L is indicated in the treatment of all grades of hypertension and heart failure. Moreover, it is indicated in hypertensive patients with type II diabetes and will delay the progression of renal diseases.
Dosage and Administration :
The usual starting and maintenance dose of Losartan is 50 mg once daily for most patients. The maximal antihypertensive effect is attained 3-6 weeks after initiation of therapy. Some patients may receive an additional benefit by increasing the dose to Losartan 100 mg once daily. In patients, who are salt depleted, corrective measures should be used before starting Losartan and the initial dose should be reduced to 25 mg. No dosage adjustment is necessary for patients up to 75 years of age. There is limited clinical experience in older patients and a lower starting dose of 25 mg once daily is recommended.
No initial dosage adjustment is necessary in patients with mild renal impairment. For patients with moderate to severe renal impairment or patients on dialysis, a lower starting dose of Preslo-L 25 mg is recommended.
Side effects :
In controlled clinical trials in patients with essential hypertension, dizziness was the only side effect reported that occurred with an incidence greater than placebo in 1% or more of patients treated with Losartan. Rarely, rash was reported, although the incidence in controlled clinical trials was less than placebo. Angioedema, involving swelling of the face, lips and/or tongue, has been reported rarely in patients treated with Losartan. Serious hypotension (particularly on initiating treatment in salt depleted patients) or renal failure (mainly in patients with renal artery stenosis) may be encountered during Losartan treatment.
Use in special group :
Pregnancy and Lactation : Although there is no experience with the use of Losartan in pregnant women, animal studies with Losartan Potassium have demonstrated fetal and neonatal injury and death, the mechanism of which is believed to be pharmacologically mediated through effects on the renin-angiotensin-aldosterone system. Losartan should not be used in pregnancy and if pregnancy is detected, Losartan should be discontinued as soon as possible. It is not known if Losartan is excreted in human breast milk. It is found in rat milk. The drug should not therefore be used in this age group.
Contraindications :
Losartan is contraindicated in pregnancy and lactation. It is also contraindicated to patients who are hypersensitive to any component of this product.
Drug Interaction :
No drug interactions of clinical significance have been identified. Compounds which have been studied in clinical pharmacokinetic trials include digoxin, hydrochlorothiazide, warfarin, cimetidine, ketoconazole and phenobarbital.
Precautions :
In patients who are intravenously volume depleted (e.g. those treated with high-dose diuretics), symptomatic hypotension may occur. These conditions should be corrected prior to the administration of Losartan or a lower starting dose should be used. A lower dose should be considered for patients with a history of hepatic impairment. Losartan should not be used with potassium-sparing diuretics.
Storage :
Store in a cool and dry place, away from light. Keep out of the reach of children.
Comarcial Pack :
Preslo-L 25 Tablet : Each box contains 5 x 10 tablets in Alu-Alu blister pack.
Preslo-L 50 Tablet : Each box contains 5 x 10 tablets in Alu-Alu blister pack.
Download Product Manual
Back
---