Ketolab 60mg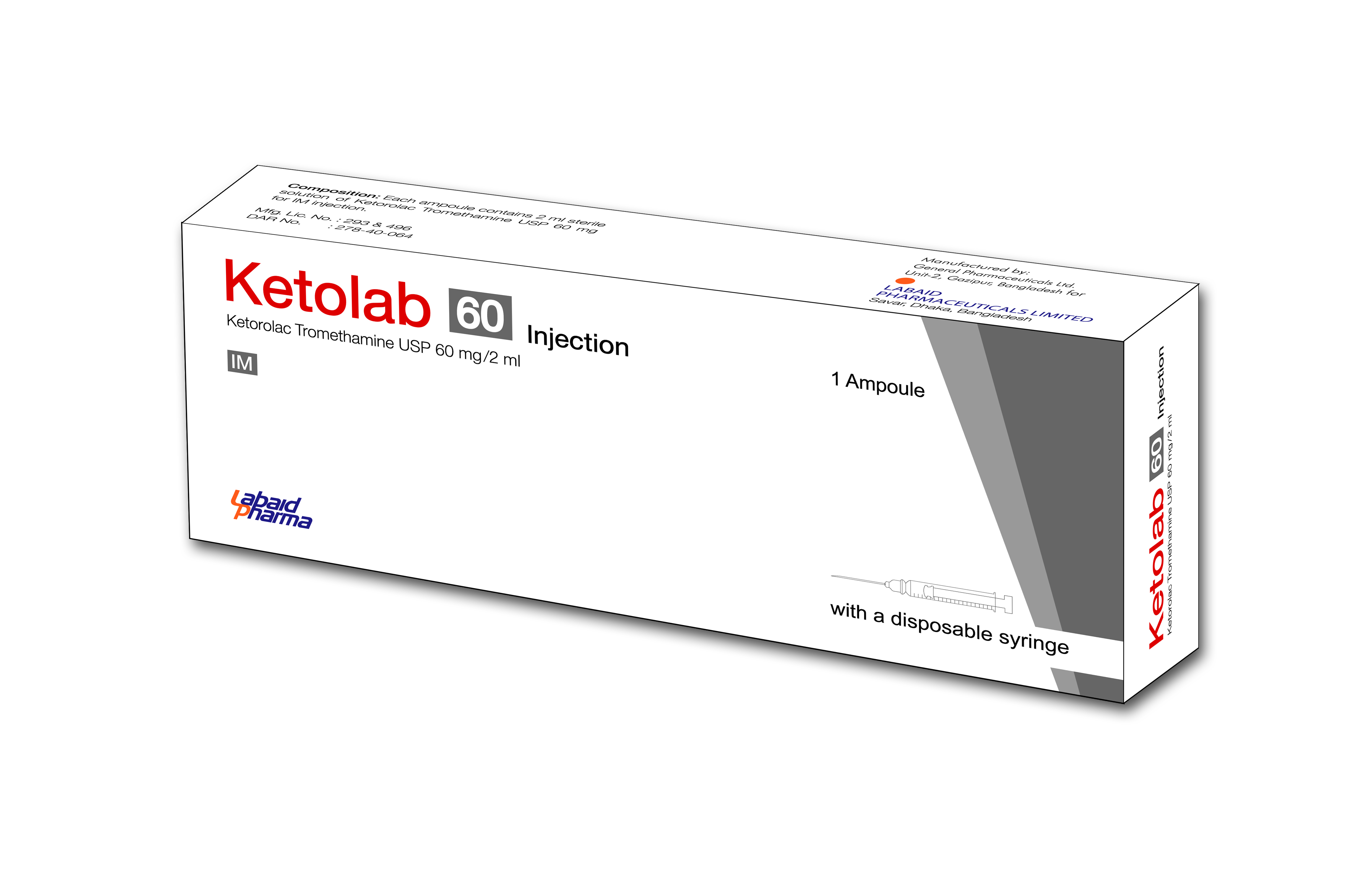 Generic :
Ketorolac Tromethamine USP
Therapeutic :
Ketorolac Tromethamine USP
---
Ketolab
Ketorolac Tromethamine USP
Composition :
Ketolab 60 IM Injection: Each ampoule contains 2 ml sterile solution of Ketorolac Tromethamine USP 60 mg for IM injection.
Description :
Ketorolac is a non-steroidal anti-inflammatory drug (NSAID). It inhibits synthesis of prostaglandins and may be considered as a peripherally acting analgesic. It is highly protein bound and is largely metabolized in liver. The products of metabolism and some unchanged drugs are excreted in the urine.
Indications :
Ketorolac is very effective for the short-term management of moderate to severe acute postoperative pain.
Dosage and administration :
For adult patients (<65 years)
Ketorolac Tromethamine is for administration by intramuscular or bolus intravenous injection. Initial dose is 60 mg IM (single) or 30 mg IV (single). Maintenance dose is 30 mg IM/IV 6 hourly. Maximum dose is 120 mg / day.
For elderly patients (>65 years), patients with renal impairment & those weighing less than 50 kg
Initial dose is 30 mg IM. Maintenance dose is 10-15 mg IM/IV 6 hourly. Maximum dose is 60 mg/day. The maximum duration of treatment should not exceed 2 days.
For patients receiving parenteral Ketorolac Tromethamine and who are converted to Ketorolac Tromethamine oral tablets, the total combined daily dose should not exceed 90 mg (60 mg for the elderly, renally-impaired patients and patients less than 50 kg ) and the oral component should not exceed 40 mg on the day the change of formulation is made. Patients should be converted to oral treatment as soon as possible.
Side effects :
Gastro-intestinal disturbances including discomfort, nausea, diarrhoea, occasionally bleeding and ulceration, taste disturbances, anorexia, abdominal pain, dyspepsia, headache, dizziness, restlessness, drowsiness, insomnia, dry mouth, flushing, bradycardia, palpitation, chest pain, hypertension, dyspnoea, asthma, malaise, paresthesia, urinary frequency, thirst, sweating, myalgia, visual disturbances, pain at injection site.
Use in special group :
Safety in human pregnancy has not been established. Ketorolac Tromethamine has been detected in human milk at low levels. Ketorolac Tromethamine is therefore contraindicated during pregnancy, labor or delivery, or in mothers who are breast feeding.
Contraindications :
• History of peptic ulcer or gastrointestinal bleeding
• Suspected or confirmed cerebrovascular bleeding
• Hemorrhagic diatheses, including coagulation disorders
• Patients with hypersensitivity to Ketorolac Tromethamine or other NSAIDs and patients in whom Aspirin or other prostaglandin synthesis inhibitors induce allergic reactions
• Patients with the complete or partial syndrome of nasal polyps, angio-edema or bronchospasm
• Concurrent treatment with other NSAIDs, Probenecid or Lithium salts
• Hypovolemia from any cause or dehydration
• Moderate or severe renal impairment (serum creatinine>160 µmol/l)
• A history of asthma
• Patients who have had operations with a high risk of hemorrhage or incomplete hemostasis
• Patients on anticoagulants including low-dose heparin (2500 - 5000 units 12- hourly)
• During pregnancy, labor, delivery or lactation
Precautions :
Precaution should be taken in elderly, allergic disorder, renal, cardiac, GI and hepatic impaired patient with low body weight.
Drug Interaction :
Increased risk of haemorrhage when Ketorolac is given with anticoagulants and NSAIDs.
Storage :
Keep away from light and moisture, store in a cool place. Keep out of the reach of children.
Commercial Pack :
Ketolab 30 IM/IV Injection: Each box contains 5 ampoules, each of 1 ml sterile solution and 1 disposable syringe in Alu-PVC blister pack.
Ketolab 60 IM Injection: Each box contains 1 ampoule of 2 ml sterile solution and 1 disposable syringe in Alu-PVC blister pack.
Download Product Manual
Back
---