Bonaid 150mg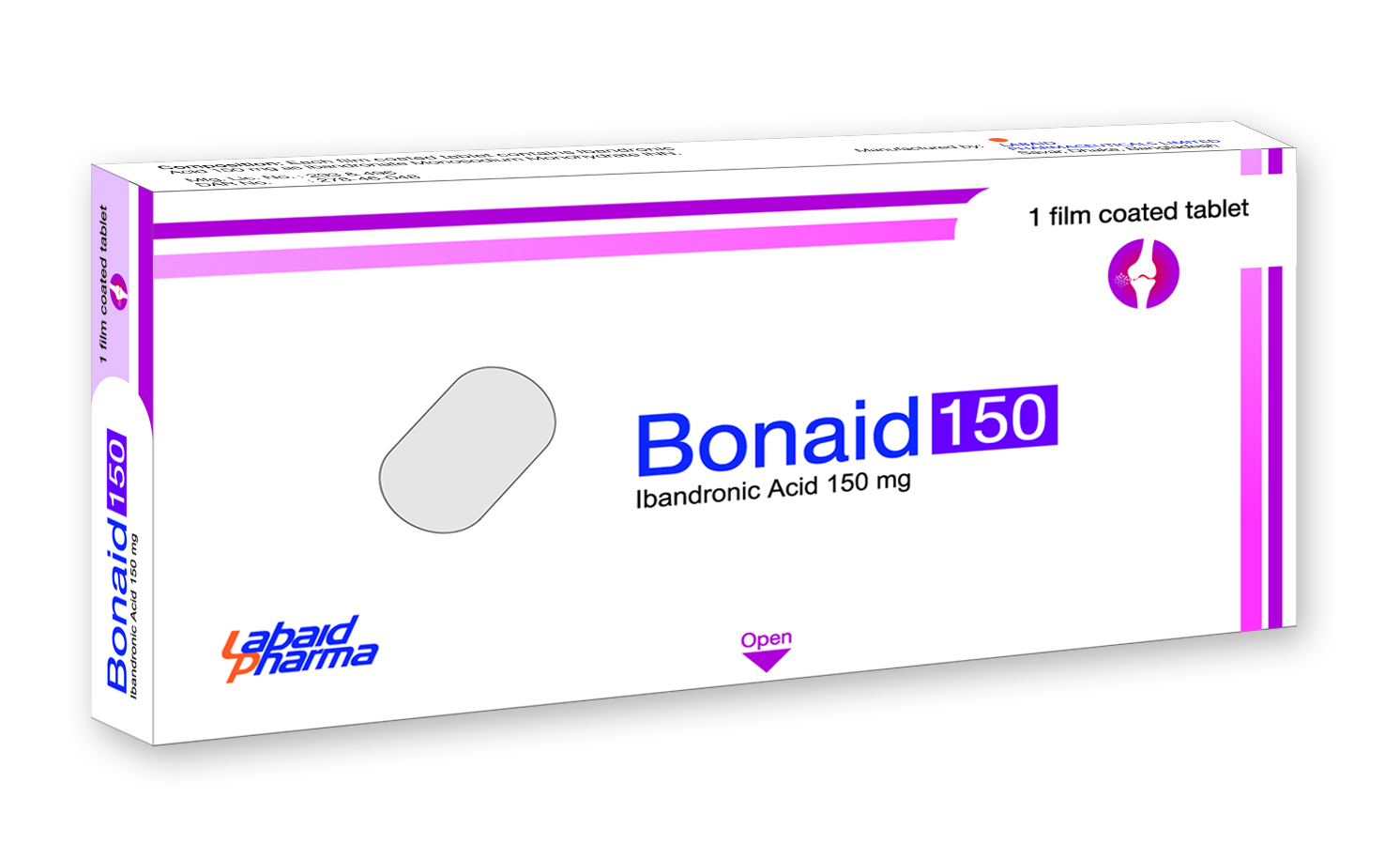 Generic :
Ibandronic Acid 150 mg
Therapeutic :
Ibandronic Acid
---
Bonaid
Ibandronic Acid 150 mg
Planning Bonaid day:
- Bonaid is a once monthly tablet
- Choose an easy to remember day to take your Bonaid tablet. (Such as 1st day of each month).
- Contact your doctor when you need.
Composition:
Bonaid 150 Tablet: Each film coated tablet contains Ibandronic Acid 150 mg as Ibandronate Monosodium Monohydrate INN.
Description:
Osteoporosis causes the body to remove more bone than it replaces. This means that bones get weaker. Weak bones are more likely to break. Osteoporosis is a bone disease that is quite common in women after menopause. It also affects men. At first, osteoporosis has no symptoms, but people with osteoporosis may develop loss of height and are more likely to break (fracture) their bones, especially the back (spine), wrist and hip bones. Osteoporosis can be prevented and with proper therapy it can be treated.
Ibandronic acid inhibits osteoclast activity and reduces bone resorption and turnover. In post menopausal women, it reduces the elevated rate of bone turnover, leading to a progressive gain in bone mass. The absorption of Ibandronate occurs in the upper gastrointestinal tract. After absorption, Ibandronate either rapidly binds to bone or is excreted unchanged into urine.
Indications:
Bonaid is indicated for the:
- Treatment of osteoporosis in women (specially postmenopausal)
- Prevention of osteoporosis in women (specially postmenopausal)
- Prevention and treatment of osteoporosis in men
Dosage and Administration:
The recommended dose of Bonaid for the treatment and prevention of osteoporosis is one 150 mg tablet once-a-month.
Special dosage instructions:
Patients with Hepatic Impairment: No dose adjustment is necessary.
Patients with Renal Impairment: No dose adjustment is necessary for patients with mild or moderate renal impairment where creatinine clearance is equal to or greater than 30mL/min.
Geriatric Patients: No dose adjustment is necessary in the elderly.
Administration:
To maximize absorption and clinical benefit, Bonaid 150 should be taken at least 1 hour before the first food or drink or any oral medication or supplementation (including calcium) and it is to be swallowed whole with a full glass of plain water. The tablet should not be chewed or sucked. Patients should not lie down for 1 hour after taking Bonaid. However, patients can sit down, walk, exercise or do the regular activities. If the once-monthly dose is missed and the patient's next scheduled Bonaid day is more than 7 days away, the patient should be instructed to take one Bonaid 150 mg tablet in the morning following the date that it is remembered. If the next scheduled dose is within 7 days, patients should wait until the next dose and then continue taking one tablet once-a-month as originally scheduled. Two 150 mg tablets should not be taken within the same week.
Side effects:
The most common adverse reactions include dyspepsia, nausea, diarrhoea, constipation, abdominal pain, myalgia, headache, dizziness, skin rash.
Use in Special Group:
Pregnancy and Lactation: Bonaid should not be used during pregnancy and lactation.
Contraindications:
Bonaid is contraindicated in patients with known hypersensitivity to Ibandronic acid or to any of its excipients.
Drug Interaction:
It is likely that products containing calcium and other multivalent cations (such as aluminium, magnesium, iron) including milk, food and antacids are likely to interfere with absorption of Ibandronate. Therefore, patients must wait 1 hour after taking Bonaid before taking other oral medications.
Precautions:
Hypocalcemia and other disturbances of bone and mineral metabolism should be effectively treated before starting Bonaid therapy. Adequate intake of calcium and vitamin D is important in all patients.
Storage:
Keep away from light & moisture and store below 300 C temperature. Keep out of reach of children.
Commercial Pack:
Bonaid 150 Tablet: Each box contains 1 x 1 tablet in Alu-Alu blister pack.
Download Product Manual
Back
---