Cardolab -5mg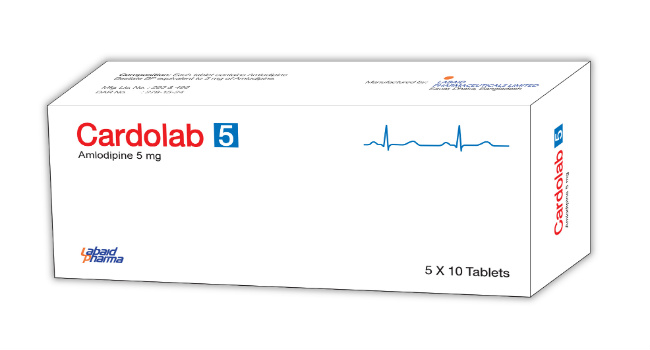 Generic :
Amlodipine
Therapeutic :
Amlodipine
---
Composition :
Cardolab 5 Tablet: Each tablet contains Amlodipine Besilate BP equivalent to 5 mg of Amlodipine.
Description :
Amlodipine is a dihydropyridine calcium antagonist that inhibits the transmembrane influx of calcium ions into vascular smooth muscle and cardiac muscle.
Indications :
Dosage and administration :
Adult: Recommended starting dose: 5 mg once daily with maximum dose 10 mg
once daily

Elderly patients or patients with hepatic insufficiency: May start with 2.5 mg
once daily
Pediatric: Starting dose: 2.5 mg to 5 mg once daily (in patient 6-17 years)
Side effects :
Amlodipine is well tolerated. Headache, fatigue, nausea, flushing, dizziness, erythema are reported.
Use in special group :
Pregnancy and lactation: Not recommended.
Pediatric use: Effect of Amlodipine on blood pressure in patients less than 6 years of age is not known.
Contraindications :
Contraindicated in patients with hypersensitivity to Amlodipine.
Precautions :
Since the vasodilation induced by Amlodipine is gradual in onset, acute hypotension has rarely been reported after oral administration of Amlodipine. Nonetheless, caution should be exercised when administering Amlodipine with any other peripheral vasodilator particularly in patients with severe aortic stenosis.
Use in patients with congestive heart failure: Although haemodynamic studies and a controlled in class II-III heart failure patients have shown that Amlodipine did not lead to clinical deterioration as measured by exercise tolerance, left ventricular ejection fraction and clinical symptomatology; in general, all calcium channel blockers should be used with caution in patients with heart failure.
Beta-blocker withdrawal: Amlodipine is not a beta-blocker and therefore gives no protection against the danger of abrupt beta-blocker withdrawal; any such withdrawal should be gradual reduction of the dose of beta-blocker.
Patients with hepatic failure: Since Amlodipine is extensively metabolised by the liver and plasma elimination half life is 56 hours in patients with impaired hepatic function, caution should be exercised when administering Amlodipine to patients with hepatic impairment.
Drug Interaction :
Carbamazepine reduces the effects of Amlodipine
Itraconazole, ketoconazole inhibit the metabolism of Amlodipine
Storage :
Store in a cool and dry place, away from light. Keep out of the reach of children.
Commercial Pack :
Cardolab 5 Tablet: Each box contains 5 x 10 tablets in Alu-Alu blister pack
Download Product Manual
Back
---