Bacaid-10mg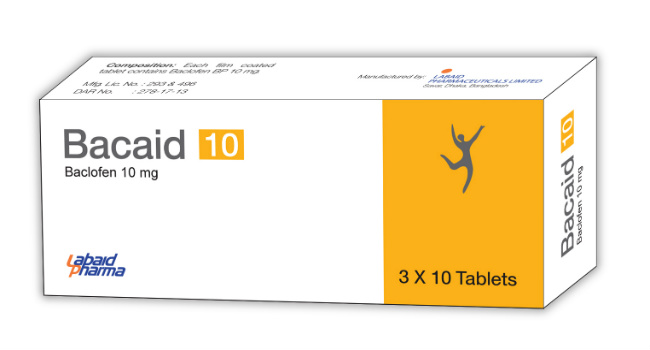 Generic :
Baclofen
Therapeutic :
Baclofen
---
Composition :
Bacaid 10 Tablet: Each film coated tablet contains Baclofen BP 10 mg.
Description :
Baclofen is a centrally acting skeletal muscle relaxant and an antispastic agent with a spinal site of action.
Indications :
Chronic severe spasticity resulting from disorders such as multiple sclerosis or traumatic partial section of spinal cord.
Dosage and administration :
Adults: Start therapy at a low dosage and increase gradually until optimum effect is achieved (usually between 40-80 mg daily).
The dosage is as follows:
5 mg t.i.d. for 3 days
10 mg t.i.d. for 3 days
15 mg t.i.d. for 3 days
20 mg t.i.d. for 3 days
Thereafter, additional increases may be necessary but the total dose should not exceed a maximum of 80 mg daily.
Children: Usual maintenance dose is 0.75-2 mg/kg daily in divided dose.
Side effects :
The most common side effects include drowsiness, nausea, dizziness, lassitude, confusion, fatigue, muscular pain and hypotension.
Use in special group :
Pregnancy: There are no adequate and well controlled studies of Baclofen in pregnant women. So it should be used during pregnancy only if the potential benefit outweighs the potential risk to the fetus.
Lactation: Baclofen is excreted in breast milk, so caution should be exercised when administered to a nursing woman.
Pediatric Use: Safety and effectiveness in pediatric patients below the age of 12 years have not been established.
Contraindications :
Baclofen is contraindicated in patients with hypersensitivity to any component of this product.
Precautions :
Baclofen stimulates gastric acid secretion and should be used with caution in patients with a history of peptic ulcer. It should also be used with caution in patients with severe psychiatric disorders or epilepsy or convulsive disorders.
Drug Interaction :
There may be increased weakness if Baclofen is given to patients taking a tricyclic antidepressant
There may be an increased hypotensive effect if it is given to patients receiving antihypertensive therapy
Storage :
Store in a cool and dry place, away from light. Keep out of the reach of children.
Commercial Pack :
Bacaid 10 Tablet: Each box contains 3 x 10 tablets in Alu-PVDC blister pack.
Download Product Manual
Back
---