Preslo-H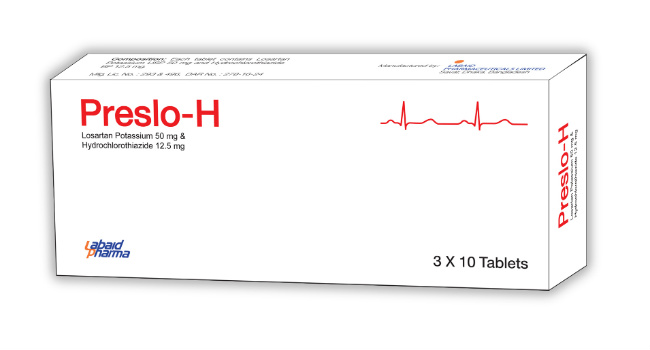 Generic :
Losartan Potassium + HCTZ
Therapeutic :
Losartan Potassium + HCTZ
---
Composition :
Preslo-H Tablet: Each tablet contains Losartan Potassium USP 50 mg and Hydrochlorothiazide BP 12.5 mg.
Description :
Losartan Potassium is the first orally active angiotensin-II receptor (type-AT1) antagonist. Angiotensin-II is a potent vasoconstrictor which is the primary vasoactive hormone of the renin-angiotensin system and an important component in the patho-physiology of hypertension. Losartan Potassium and its principle active metabolite block the vasoconstrictor and aldosterone secreting effects of angiotensin-II receptor.
Hydrochlorothiazide is a thiazide diuretic. Thiazides affect the renal tubular mechanisms of electrolyte reabsorption, directly increasing excretion of sodium and chloride in approximately equivalent amounts. Indirectly, the diuretic action of hydrochlorothiazide reduces plasma volume with consequent increases in plasma renin activity.
Indications :
Hypertension and the risk of stroke in patients with hypertension and left ventricular hypertrophy.
Dosage and administration :
Hypertension: The usual dose is 1 tablet daily. For patients who do not respond adequately to 1 tablet, the dosage may be increased to 2 tablets daily. The maximum dose is 2 tablets daily. In general, the antihypertensive effect is attained within 3 weeks after initiation of therapy. No initial dose adjustment is necessary for elderly patients. But maximum dose should not be used as initial therapy in elderly patients.
Patients with renal impairment: The usual regimens of therapy with Losartan Potassium and Hydrochlorothiazide may be followed as long as the patient's creatinine clearance is >30 ml/min. In patients with more severe renal impairment, loop diuretics are preferred to thiazides. In that case, Hydrochlorothiazide is not recommended.
Patients with hepatic impairment: Losartan Potassium and Hydrochlorothiazide are not recommended for titration in patients with hepatic impairment because the appropriate 25 mg starting dose of Losartan cannot be given.
Side effects :
Generally, Losartan Potassium and Hydrochlorothiazide are well tolerated. Side effects including abdominal pain, swelling, back pain, dizziness, rash and cough may occur in rare cases.
Use in special group :
Pregnancy and lactation: Not recommended.
Pediatric use: Safety and effectiveness of Losartan Potassium and
Hydrochlorothiazide in pediatric patients have not been established.
Contraindications :
Losartan Potassium and Hydrochlorothiazide are contraindicated in patients who are hypersensitive to any component of this product.
Drug Interaction :
Losartan Potassium: No significant drug-drug pharmacokinetic interaction has been found in interaction studies with hydrochlorothiazide, digoxin, warfarin, cimetidine and phenobarbital.
Hydrochlorothiazide: Alcohol, barbiturates or narcotics may interact with the thiazide diuretics, when administered concurrently.
Precautions :
Periodic determination of serum electrolytes to detect possible electrolyte imbalance should be performed at appropriate intervals.
Storage :
Store in a cool and dry place, away from light. Keep out of the reach of children.
Commercial Pack :
Preslo-H Tablet: Each box contains 3 x 10 tablets in Alu-Alu blister pack.
Download Product Manual
Back
---