Romilast 0.5 tablet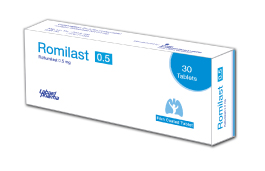 Generic :
Roflumilast INN 0.5 mg
Therapeutic :
Roflumilast INN 0.5 mg
---
Composition:
Romilast 0.5 Tablet: Each film coated tablet contains Roflumilast INN 0.5 mg.
Description:
Roflumilast and its active metabolite (Roflumilast N-oxide) are selective inhibitors of phosphodiesterase 4 (PDE4). Roflumilast and Roflumilast N-oxide inhibition of PDE4 (a major cyclic AMP, metabolizing enzyme in lung tissue) activity leads to accumulation of intracellular cyclic AMP. While the specific mechanism(s) by which Roflumilast exerts its therapeutic action in COPD patients is not well defined, it is thought to be related to the effects of increased intracellular cyclic AMP in lung cells.
Indication:
Romilast (Roflumilast) is indicated:
- As a treatment to reduce the risk of COPD exacerbations in patients with severe COPD associated with chronic bronchitis and a history of exacerbations.
- As add-on therapy to bronchodilator treatment.
Dosage & Administration:
The recommended dosage for patients with COPD is one 0.5 mg tablet per day, with or without food.
Side Effect:
The most common side effects are diarrhea, weight loss, nausea, headache, back pain, insomnia, dizziness & decreased appetite.
Use in Special Group:
Pregnancy: Pregnancy Category C. There are no adequate and well controlled studies of Roflumilast in pregnant women. Roflumilast should be used during pregnancy only if the potential benefit justifies the potential risk to the fetus.
Lactation: Roflumilast or its metabolites are excreted into the milk. There are no human studies that have investigated effects of Roflumilast on breast-fed infants. Roflumilast should not be used by women who are nursing.
Geriatrics (>65 years of age): There were no overall differences in safety and effectiveness of Roflumilast in the elderly compared to younger patients with COPD. Therefore, no dose adjustment is necessary.
Pediatrics (<18 years of age): Safety and effectiveness of Roflumilast in children and adolescents below 18 years of age have not been established.
Hepatic Impairment: Roflumilast is not recommended for use in patients with moderate or severe liver impairment.
Renal Impairment: No dosage adjustment is necessary for patients with renal impairment.
Contraindication:
Hypersensitivity to Roflumilast or to any of the excipients. Moderate to severe liver impairment.
Precaution:
Acute bronchospasm: Do not use for the relief of acute bronchospasm.
Psychiatric events including suicidality: Advise patients, their caregivers, and families to be alert for the emergence or worsening of insomnia, anxiety, depression, suicidal thoughts or other mood changes and if such changes occur to contact their healthcare provider.
Weight decrease: Monitor weight regularly. If unexplained or clinically significant weight loss occurs, evaluate weight loss and consider discontinuation of Romilast.
Drug Interaction:
A major step in Roflumilast metabolism is the N-oxidation of Roflumilast to Roflumilast N-oxide by CYP3A4 and CYP1A2. Therefore, the use of strong cytochrome P450 enzyme inducers (e.g. Rifampicin, Phenobarbital, Carbamazepine, Phenytoin) with Roflumilast is not recommended.
The co-administration of Roflumilast with CYP3A4 inhibitors or dual inhibitors that inhibit both CYP3A4 and CYP1A2 simultaneously (e.g., Erythromycin, Ketoconazole, Fluvoxamine, Enoxacin, Cimetidine) may increase Roflumilast systemic exposure and may result in increased adverse reactions.
The co-administration of Roflumilast with oral contraceptives containing Gestodene and Ethinyl estradiol may increase Roflumilast systemic exposure and may result in increased side effects.
Storage:
Keep away from light, moisture and store below 300 C. Keep out of the reach of children.
Commercial Packaging:
Romilast 0.5 Tablet: Each box contains 3x10 tablets in Alu-PVDC blister pack.
Download Product Manual
Back
---